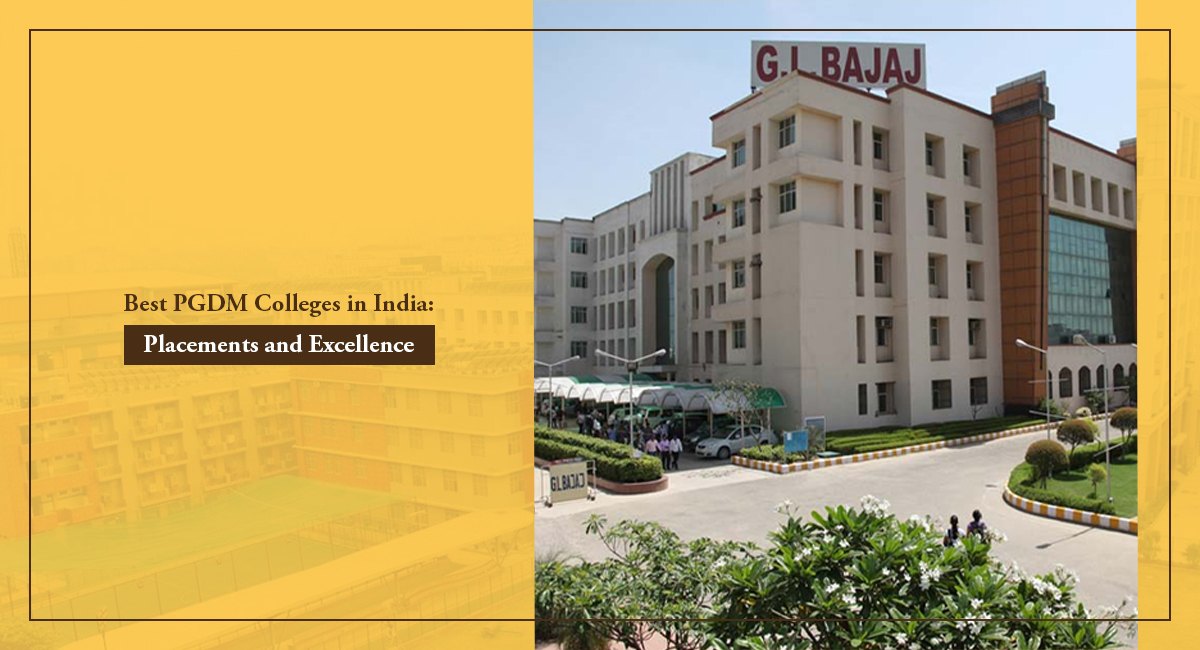 Best PGDM Colleges in India: Placements and Excellence
Posted On: 14 September 2023 | 12:58:am
Pursuing a Post Graduate Diploma in Management (PGDM) is a significant step towards a successful career in business and management. The choice of the right institute plays a pivotal role in shaping your future. In this comprehensive article, we will explore the best PGDM colleges in India, focusing on GL Bajaj Greater Noida and other leading institutions in Noida. We will delve into the significance of PGDM placements, the academic excellence of these institutes, and their contribution to producing the business leaders of tomorrow.
GL Bajaj Greater Noida: A Beacon of Excellence
GL Bajaj Institute of Management and Research, located in Greater Noida, is renowned for its commitment to academic excellence and holistic development. As one of the best institutes for PGDM in GL Bajaj Greater Noida has consistently upheld the highest standards of management education.
Best Institutes for PGDM in Greater Noida: What Sets Them Apart
Several factors distinguish the Best Institutes For PGDM In Greater Noida and Noida from the rest:
Comprehensive Curriculum: These institutes offer PGDM programs with a curriculum that combines core management principles with the latest industry trends. The programs are designed to prepare students for leadership roles in a dynamic business environment.
Experienced Faculty: GL Bajaj is the Top PGDM college in Delhi NCR, including Greater Noida and Noida, and boasts a team of highly experienced faculty members who bring a wealth of industry knowledge and academic expertise to the classroom.
State-of-the-Art Infrastructure: Modern classrooms, well-equipped labs, libraries, and facilities for extracurricular activities enhance the overall learning experience.
Industry Connect: The institutes maintain strong ties with the corporate world, facilitating internships, industry visits, and guest lectures by industry experts. This exposure to real-world scenarios and challenges is invaluable for students.
Placement Excellence: PGDM placements are a critical aspect of these institutes. Their dedicated placement cell collaborates with leading companies to provide students with job opportunities and internships.
PGDM Placements: The Path to Success
The quality of PGDM Placements often measures the success of a PGDM program it offers. The best PGDM colleges in India prioritize placement excellence, ensuring that students have access to a wide range of career opportunities.
Key Aspects of PGDM Placements
Placement Records: These institutes have a track record of consistently achieving high placement rates. Graduates secure positions in renowned companies across various sectors.
Internship Opportunities: Pre-placement internships, summer internships, and live projects with companies allow students to gain practical experience and build their network in the industry.
Placement Cell: A dedicated placement cell assists students in various stages of the recruitment process. It provides guidance, conducts mock interviews, and facilitates interactions with recruiters.
Corporate Tie-ups: The institutes forge partnerships with leading companies and organizations to create a bridge between students and potential employers.
Greater Noida Institute of Business Management: A Leading Name
The Greater Noida Institute of Business Management (GNIBM) is another reputable institution that deserves mention among the top PGDM colleges in Greater Noida. GNIBM is known for its commitment to nurturing talent, fostering innovation, and producing industry-ready professionals.
When it comes to pursuing a PGDM program, choosing the right institute is paramount. The Best PGDM Colleges in India, including GL Bajaj Greater Noida and GNIBM, offer a combination of academic rigor, industry exposure, and placement opportunities that prepare students to thrive in the competitive business landscape.
The journey to becoming a business leader begins with the choice of the right PGDM college. These institutes, with their academic excellence, experienced faculty, strong industry connections, and impressive placement records, are paving the way for the next generation of management professionals. Consider your career goals, evaluate your options, and embark on a transformative educational journey at one of these esteemed institutions.