Introductory session of the Alumni Outreach Program- "PROJECT SAHYOG" Academic Session: 2022-23
View Detail on Facebook
View Detail on Linkedin
View Detail on Twitter
July 23, 2022
File No: Project Sahyog /2022-23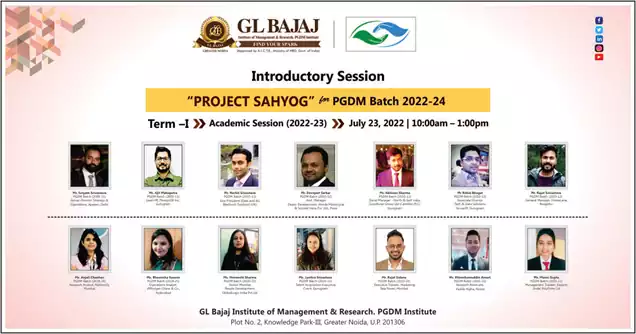 | | | |
| --- | --- | --- |
| S.no | Details of Alumni | PGDM Batch |
| 1 | Mr. Satyyam Srivastava, Director Strategy & Operations - Apisero Inc | 2009-11 |
| 2 | Mr Ajit Mahapatra, Manager Employee Experience, MongoDB | 2009-11 |
| 2 | Mr. Abhinav Sharma, Zonal Manager - North & East India Goodricke Group Ltd (Camellia PLC) | 2010-12 |
| 3 | Mr. Rahul Bhagat, General Manager - Business Development & Key Strategic Accounts, Denave India Pvt Ltd | 2010-12 |
| 4 | Mr. Devojeet Sarkar, Manager, Honda Motorcycle & Scooter India Pvt. Ltd. | 2010-12 |
| 5 | Mr. Ajit Mahapatra , HR Business Partner ,Ameriprise Financial | 2010-12 |
| 6 | Mr. Rachit Srivastava, Vice President(Data and AI), Blackrock UK | 2010-12 |
| 7 | Mr. Rajat Srivastava, General Manager, HomeLane, Bangalore | 2010-12 |
| 8 | Ms Anjali Chauhan, Research Analyst, NielsenIQ, Noida | 2018-20 |
| 9 | Ms Bhoomika Saxena, Operations Analyst, JPMorgan Chase & Co., Hyderabad | 2019-21 |
| 10 | Ms. Himanshi Sharma, , Senior Member, People Development, GlobalLogic India Pvt.Ltd | 2020-22 |
| 11 | Ms. Jyotica Srivastava, , Talent Acquisition Executive, Cvent, Gurugram | 2020-22 |
| 12 | Mr Rajat Sidana, Executive Trainee- Marketing, Mumbai | 2020-22 |
| 13 | Mr Ehteeshamuddin Ansari, Research Associate, Visible Alpha, Noida | 2020-22 |
| 14 | Ms. Manvi Gupta, Executive, Jindal | 20202-22 |
Project Sahyog on "How to Convert SIP into PPO" on 21st May, 2022
PGDM Batch 2021-23


Academic Session 2021-22
View Detail on Facebook
View Detail on Linkedin
View Detail on Twitter
View Detail on Instagram
File No. GLBIMR/PGDM/2021-22/ATS-21-22 (Project Sahyog)

| | | |
| --- | --- | --- |
| S.no | Details of Alumni | PGDM Batch |
| 1 | Mr. Satyyam Srivastava, Director Strategy & Operations - Apisero Inc | 2009-11 |
| 2 | Mr. Ajit Mahapatra , HR Business Partner , Ameriprise Financial | 2010-12 |
| 3 | Mr. Rachit Srivastava, Vice President(Data and AI), Blackrock UK | 2010-12 |
| 4 | Mr. Abhinav Sharma, Zonal Manager - North & East India Goodricke Group Ltd (Camellia PLC) | 2010-12 |
| 5 | Mr. Rahul Bhagat, General Manager - Business Development & Key Strategic Accounts, Denave India Pvt Ltd | 2010-12 |
OBJECTIVES
To Utilize the rich experiences of Ex-students of the college for the benefit and progress of the present students.
To provide guidance to the present students in their endeavour for better employment.
To arrange debates, sessions, and other activities systematically to help them prepare for the upcoming placement season.
To work with college faculty members and management in providing constructive feedback of the students.
To get the valuable advices of the Alumni in the overall development of the college.

ACTION PLAN
MOCK INTERVIEW: 1 - Firstly, we must ensure clear understanding of the measures necessary to help students reach their goal. To achieve that we will conduct a Mock Interview for every 1st Year student and will then divide them into three groups based on the result. Students will be assessed on the below essential areas:
Communication skills
Attitude
Confidence
Market Knowledge / Subject knowledge
Resume writing

Students will be segregated into two batches of 25 each and their interviews will be conducted by a panel of 3 members. Similarly, two panels will take the interviews of around 50 students in a week.
Duration - 4 weeks
Month - February end onwards

PRE SUMMER INTERNSHIP SESSIONS - SummerInternships play a crucial role in shaping one's career. It not only helps students to gain real exposure to working environments but also helps them develop the necessary skills required to stand out in a saturated job market.
So realizing its importance the alumni team have decided to take a session for the 1st year students where the final year students will share their experiences and the role the internships plays in the final placements.
Duration - 1.5 hours
Month - April

GROUP DISCUSSION / DEBATE - In order to improves the student's thinking, listening and speaking skills we have planned to conduct the GD / Debate sessions. It is an effective tool not only in problem solving, decision making and personality assessment but also promotes the confidence level.
The GD can be conducted among a group of 7 to 8 students.
Duration - 2 hours
Month - August

DOMAIN RELATED INTERVIEW QUESTIONS- Our Team has a good amount of experience in taking interviews and what are the most common questions that are normally asked. For students, we will emphasize on a very important question that usually dictates the outcome of most interviews: "Tell me something about yourself"
Duration: 8 hours

INDUSTRY KNOWLEDGE PRESENTATIONS- The students will be required to prepare a presentation on the basis of practical knowledge of their desired sector. The presentation should not exceed for more than 5 minutes.
The PPT presentation session is compulsory for all and also aims at checking the placement readiness of the students.
Duration - 2 hours
Month - September

MENTORSHIP PROGRAM- Apart from providing the students with formal sessions, we would divide students amongst ourselves on the basis of their domain and answer any questions that they may be reluctant to ask in front of a larger audience.
MOCK INTERVIEW: 2 - We will do it again prior to the start of the placement season to boost their confidence and provide students with the feedback. Here the students will also be evaluated on the basis Core knowledge in their major and minor specialization.
Core Alumni Team
| | | | | | | |
| --- | --- | --- | --- | --- | --- | --- |
| S.no | Alumni Name | PGDM Batch | Area of Expertise | Organization | Designation | Profile Overview |
| 1 | Satyam Srivastava(Head) | 2009-11 | Operations and HR | Founder of Rentezee and Advisory Board Member of Many Startups | Group Director Strategy & Operations | 10 Years of eperience into Business Operations, Strategy GTM and Business Retention |
| 2 | Abhinav Sharma | 2010-12 | Marketing | Goodricke Group Ltd (Camellia PLC) | Zonal Manager - North & East India | Over 9 years of experience in Key Account Management, Modern Trade & Institutional Channel and E- Commerce. Also an Ex-Godfrey Philips Employee |
| 3 | Rahul Bhagat | 2010-12 | Marketing | Denave India Pvt Ltd | General Manager - Business Development & Key Strategic Accounts | Backed with over 12+ years of experience working with leading organizations in B2B marketplace, Franchising, Loyalty and Sales Enablement Industry having diverse exposure of conceptualizing & implementing Channel & Distribution Program across sectors including Oil & Gas, Building Material, IT hardware, Digital wallets, ecommerce, and more. During my journey I have always been focused towards adopting Digitization & Automation of Sales & Trade processes, strategic initiatives and exploring new market opportunities. |
| 4 | Devojeet Sarkar | 2010-12 | Marketing | Honda Motorcycle & Scooter India Pvt. Ltd. | Manager | Managerment Professional with 9+ years of experience in Sales & Marketing in Automobile Industry. Currently heading Dealer Development for North Region-India. |
| 5 | Ajit Mahapatra | 2009-11 | HR | Ameriprice Financial | HR Business Partner | 10 years of experience in Recruitment and Talent Management. Strong advocate of diversity and inclusion |
| 6 | Asif Alim | 2010-12 | Finance | Saxo Bank | Manager | Head of settlements team in SAXO Bank which is responsible of end to end settlement Equity & Bonds. Having almost 10 years of experience in the field of Capital Market, OTC derivatives and Trade life cycle |
| 7 | Rachit Srivastava | 2010-12 | Finance | Blackrock UK | Vice President(Data and AI) | 9 Years of experience in Data operations including 6+ years of Onshore experience(US and UK). Currently part of the Reference Data Modelling Group and product owner for Equities, Futures and Listed Options responsible for Business analysis and design of core security reference data feeds and quality framework. |
| 8 | Jyotica Srivastava | 2020-22 | HR | Cvent | Recruiter | Responsible for campus hiring. Proficient in sourcing and onboarding. |
| 9 | Himanshi Sharma | 2020-22 | HR | Global Logic | Senior People Development | Responsible for hiring of technical and non-technical position including a bunch of leadership position. |
| 10 | Rajat Sidana | 2020-22 | Marketing | India Mart | Senior executive (Client Acquisition) | Senior Executive Client Servicing |
| 11 | Abhiraj Singh | 2020-22 | Finance | Wipro COE Blackstone | Management Trainee ( Investor Reporting) | Currently part of the fund accounting team. Responsible for working closely with the on-shore Investor reporting team. Assumption to forecast deal and fund level IRRs. Assist in bookkeeping, preparation of financial statements and reporting. |
---
Project Sahyog - 2021
GLBIMR Alumni Engagement & Outreach Program 2021
"Project - SAHYOG"
Creating Awareness, Engagement and Support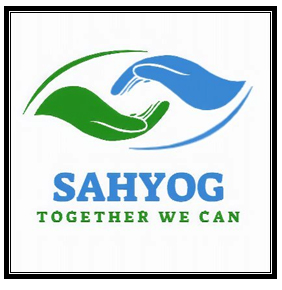 ---
Alumni are the foundations of an Institute and acts as a torchbearer for the upcoming generation. We consider our alumni to be family and are committed to finding meaningful ways to strengthen our bond with them. With this in mind, in the academic year (2021-22) we have developed an Alumni Engagement Program, that calls for a mutual commitment between GLBIMR and its Alumni, executed in a more purposeful way than ever before. Alumni engagement program is build around the three major factors i.e. Nostalgia, Trust and Emotion.
Creating an engaged, supportive alumni network is crucial to an institution's success. Talented alumni will likely have a wealth of experience and skills to share with the institution. With that in mind, we have started Alumni Outreach Program (SAHYOG), wherein alumni have volunteered and spend their valuable time to offer career support to PGDM Batch 2020-23, enhance their experience and give them that competitive edge in today's tough job market.
We started with the first session of SAHYOG in the month of August, 2021. Alumni have created streamlined action plan for students keeping in mind the hurdles that students face in finding the right job for themselves.
Following initiatives were taken in this program
Mock Interview 1: First step to ensure we are clear in terms of understanding what measures are needed to help students. Team SAHYOG have conducted Mock Interview for every 2nd Year student and then divided them into three groups based on the result.

Communication skills

Domain Knowledge

Result

Good

Good

Top Tier

Average

Good

Middle Tier

Average

Average

Average

Good

Bad

Average

Average

Bad

Bottom Tier

Bad

Bad

Duration - 1 month (Alumni's to be divided in a panel of 2 each)
Domain related interview questions: Having been in the industry for 10 years, our Team has a good amount of experience in taking interviews and what are the most common questions that are normally asked. For freshers, we will also stress on a very important question that usually dictates the outcome of most interviews: "Tell me something about yourself"
Duration - 8 hrs (1-2 hr session for each domain)
Till now a panel of 7 Alumni (Specialization wise) has taken following sessions with students:
1. Mock Interview Session (Specialization Wise)
2. Feedback Session (Specialization Wise)
3. Domain related interview questions
4. Job Search

Outcomes:
Final Placement
1. Two Students were placed in OLA Electric (Finance ) in Bangalore
2. Two Students in India Mart (Marketing)
3. One Student have cleared two rounds of PARLE AGRO and result is awaited
Students have the opportunity to talk to the experienced professionals who were once students in their shoes.
Under this program, students are getting career guidance, encouragement and advice on important course and field work.
The Institute is also expected to gain from this program, first and foremost being more strong ties with the Alumni. Knowing the fact that there are more than 100's of other colleges, if the outcome of the program is positive than it can be used as "Niche Product" value add that GLBIMR offers along with other curriculum.

Core Alumni Team and their profile (https://www.glbimr.org/alumni/academic-advisory)
Satyam Srivastava (Head) - Operations
Abhinav Sharma - Marketing
Rachit Srivastava - Finance
Devojeet Sarkar - Marketing
Rahul Bhagat - Marketing
Asif Alim - Finance
Ajit Mahapatra - HR